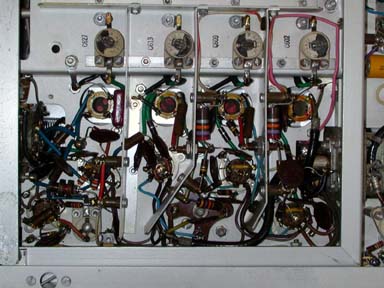 Needless to say, the operator couldn't do any significant tuning of the receiver, since it was in a different room. I believe most of the time, the receivers used the option crystal control for fixed frequency operation. I have tried tuning this unit myself - the tuning is very twitchy. If you sneeze while tuning, you can miss the entire band you are trying to tune. In the units I have, some previous owner has put 10:1 verniers on two of the tuning drawers. That turns out to be quite a good idea.

The receiver is designed with three voltage-control inputs for controlling RF gain, BFO frequency, and tuning frequency offset.
For each of these inputs,
there is a 6J6 "reactance modulator" which basically operates as a variable capacitor that they put in the tuning circuit.
Other than that, the receiver is a standard single-conversion receiver. It has 2 tuned RF stages, a VFO
and a mixer tube. It has three IF stages. All the gain stages are controlled by an AGC voltage. The AGC has two different time constants. There is also a limiter before the audio stage. If you count the number of tubes in the RF drawer, you will note that there are five. Two RF stages, one VFO, one mixer - and - one reactance modulator for fine tuning.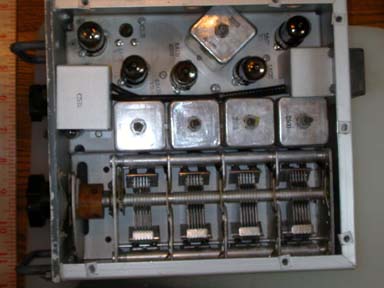 This is a good receiver, but it is not a great receiver. For instance, the bandwidth is fixed at 400-4500 Hz. You can switch in a narrow-band crystal for CW, but that's about it. Plus, being a single-conversion receiver, the imaging at high frequencies is significant and annoying. It is pretty good at 2-4 MHz, but the upper band (16-32 MHz) is quite confusing. You pick up every strong station at least 3 times on the band and sometimes 5 times or more. It is more interesting just for the history, and the incredible construction of the units. This receiver is an absolute dream to work on - you can get to all the parts, nothing is buried or underneath something else. The design is absolutely straightforward and clean.